Seafolly x New Sydney Headquarters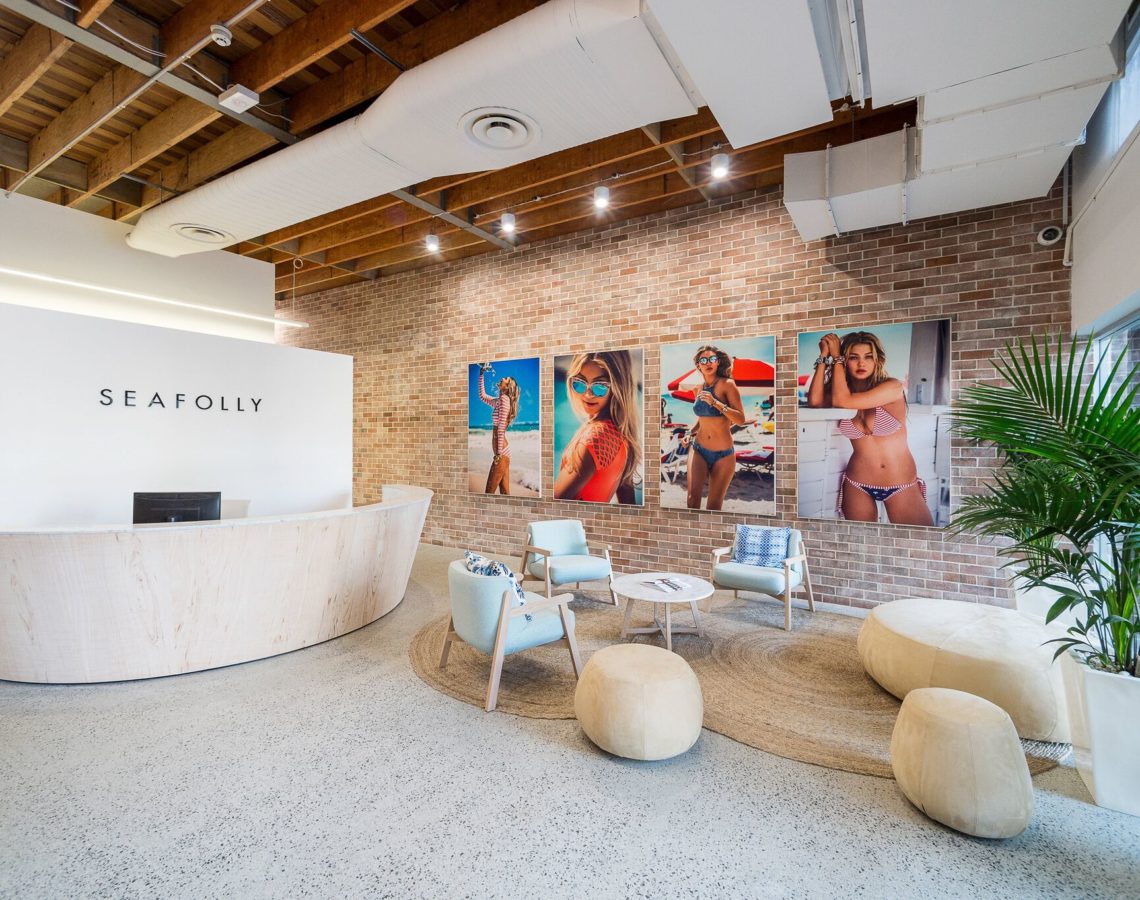 The aim of this short film about the making of the new Seafolly Australia HQ, following the interview below, is to explore the interplay between client, designer and builder during the collaborative process of design and construction.
Filmed over a period of six months, the film goes behind-the-scenes during the transformation of the former warehouse building, through the stages of design development, project management, construction, fabrication of interiors and bespoke joinery details and inside the finished interior.
Conversations with the team – Seafolly's Director and CEO Anthony Halas, Head Designer Genelle Walkom and Executive Assistant Fiona Vougdis, and Intermain's Senior Designer Katyana Molony and Senior Project Manager Alan McDonald – reveal the ideas and journey taken to develop a space that has also transformed the way Seafolly now works.
In Conversation
Can you please describe the original warehouse building, what were your first impressions?
Genelle Walkom: The first time we actually came into the space to me it felt very exciting because of the beautiful raw wood and the interesting detailing. It's a wonderful old building and you could sort of almost see the concept and the ideas that had been put to Seafolly materialise there.
What was the design brief to Intermain and the ideas you wished to explore in the new Seafolly HQ?
Anthony Halas: Seafolly is light and fun and open. We wanted to form an office space that's open and light and has those attributes. Very natural. A place where we have a really nice open working environment, but not too open so that people are distracted, so that people can be in their own creative space but at the same time work collaboratively.We wanted lot's of small meeting spaces, small breakout areas. As few offices as possible, I am one of the lucky ones whose got an office but not many do. We have got this amazing showroom space now which we have never had before, and then one of the really key things is a communal area. We have a beautiful kitchen, a beautiful outdoor eating area, and a place that people are just happy to hang out.
Could you describe the process of working with Intermain during the initial stages of design development?
Fiona Vougdis: We gathered all our heads of departments into a briefing session with Katyana and we sat down for hours, days actually, just nutting out what it is each department needed for their teams and then we evolved that into the floor plans.
Katyana Molony:  I guess the main brief for us was to make the spaces evolve and grow and be able to be changed and fixed in as many ways as possible. We needed to design really bespoke systems to be able to show their product. We worked with all the departments to start off with to work out how the functionality of the space would work and then Genelle and I got together and sat on the floor upstairs actually, and I used to bring bags of finishes and pictures and ideas and we would sit there and throw it all out on the floor to get the look and feel that we needed, the direction.
Genelle Walkom: That's been time-consuming part is working with those pieces and put them all together it's just been amazing. We have never had anything like this before so it has been very exciting.
How have the rooftop kitchen, breakout lounge and balcony spaces been important for Seafolly?
Fiona Vougdis: The breakout area was really significant for us as a whole company. To have the amazing balcony area and kitchen area where all the staff can head up have lunch, mix with other departments they don't really see on a day to day basis , that was a huge, significant, part of the brief. It's been really good for our culture.
Katyana Molony: We spent a lot of time developing the balcony and the breakout area to make sure that it worked with all the people that would be using the space. To give it different areas, so a lounge area, a library area and a dining table so people could sit around, and also the outdoor area with the booth seating.
Another major design element through the whole process was to make sure that we prototyped every item. We prototyped all the overhanging units and made sure that the designers and the staff were happy with them. We also made prototypes of the hanging systems.
The prototyping of storage units, the reception desk, hanging systems and wall units, became central to the success of the project. How did you manage that process?
Alan McDonald: Yes, I think we got up to five prototypes. The reason for that is we had Seafolly view them and they made some minor changes and we had some issues with weight. We had to re-engineer and come up with some new materials to make sure everything could hang safely from the structure. In the end we got the finished product that they were after. The reception desk was quite a challenge for our joinery team, the curved nature of it, the angles, the stone top. The way that came together.
The design of multi-use showroom spaces was a key part of the brief to Intermain. What were the specific design elements that had to be included?
Katyana Molony: With the showroom the brief was to be as flexible a possible. They use these spaces for multiple purposes, not just showing. They show four times a year and the other times of the year and they needed big collaboration spaces, relaxed informal meeting areas. We worked backwards from there and created the operable wall system that could fold back and that we could use as a showing space, so you can hang things off the wall but you can also close it up and divide the space into smaller meeting areas.
What do think is most successful about the new Seafolly headquarters?
Anthony Halas: We are definitely finding that our goal of having people want to be at work and want to hang out, we have seen that is really happening.
Genelle Walkom: It's such pleasure to come here every day, just the energy that it's created, um everyone is happy. Yeh, it's just such a fantastic. space.
Fiona Vougdis: I am actually really happy to see everyone using the space to its full potential. The overall feeling that everyone is enjoying working from the environment that we have created.
Any final thoughts on the collaboration with Intermain?
Anthony Halas: Intermain just made it easy. They were very upfront. If there were any problems they resolved them. We hit budget which is great Everything happened on time and it really I think was as smooth a process as you could possibly expect something like this to be.
Thank you.
Seafolly's Director and CEO Anthony Halas, Head Designer Genelle Walkom and Executive Assistant Fiona Vougdis, and Intermain's Senior Designer Katyana Molony and Senior Project Manager Alan McDonald were interviewed by Heidi Dokulil on location at the Seafolly HQ, Alexandria, Sydney. Intermain would like to thank Seafolly for their collaboration on this project.
Film credits:
Producer: Intermain
Director: Heidi Dokulil
Post production: Doeanddoe
Original music & sound design: Doeanddoe
Cameras: Denis Beaubois, Sam James
Read more about the Seafolly project here.